The Connected Cloud: How Acumatica's API Supports a Multicloud World
You may think the topic of APIs is less than stimulating, but you may change your mind when you read about Acumatica's API journey. From the start, we acknowledged that we must create a platform able to navigate a multicloud world. And as our journey continues, we make every effort to provide the best cloud ERP platform and solution for our customers and partners.
At Acumatica, we can chart how, from the very beginning, Acumatica's API journey has supported our multicloud approach: the idea that we don't live in a world with one, single cloud service but multiple cloud services, and that these services must be able to integrate effortlessly and offer mobility for businesses to operate successfully.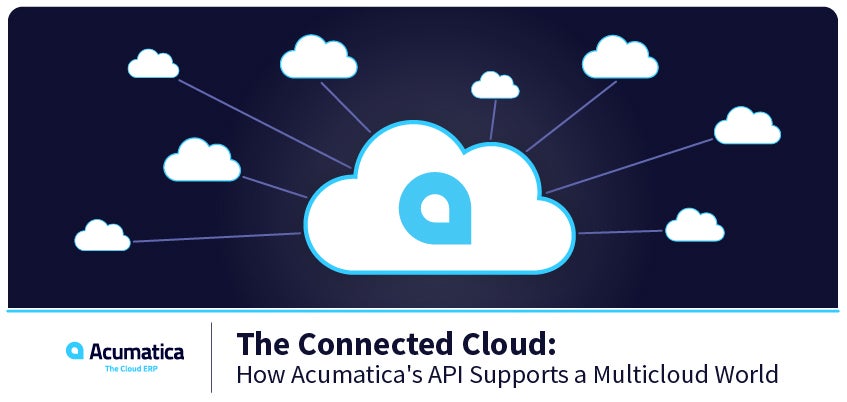 Acumatica's API: the journey
The notion of working with a platform wasn't an afterthought for Acumatica. Our platform journey began as we started with the development of Acumatica as a cloud ERP. For us, the creation of Acumatica Cloud xRP Platform was a core piece of what we were offering you, our customers, partners, and developers. In fact, our development team used the platform to build the different modules we provide, such as Financial, Distribution, and CRM, to name a few.
We have a dedicated team that continually works on our platform; we also continue to invest in it so that we can add new features and capabilities for our customers and partners. We believe this platform offers customization and adaptability.
The Acumatica team supports the concept of one-size does not fit all when it comes to ERP. Every customer, depending on different verticals, have unique business processes that have requirements that might be specific to that organization and to their verticals, including compliance with government regulations needed in that space. They want – and need – a system that is very flexible and adaptable as well as one they can make their own. This is where the platform and the framework come into play. Developers can work with full control from within Visual studio making changes to existing screen and business logics or adding new ones. It also enables easy customization of our applications with no code or low code.
With this platform, our users customize Acumatica Cloud ERP to fit their business needs, our geographical OEMs localize (language and tax/financial regulations) the application for the countries they serve, and our vertical OEMs/ISVs build integrations and offer differentiated ERP modules for their industry.
A vertical ISV partner offering a business management solution (e.g. Practice Management, Dealership Management, Franchise Management) now can offer a fully integrated accounting module, customized for their vertical and in their own branding, and get it in to market in rapid time.
In addition with Acumatica cloud xRP, we enable interactions with Acumatica, such as pulling data from or putting data back in to Acumatica, using APIs (application programming interfaces).
We started with screen-based APIs. Essentially, from every single screen in Acumatica, a developer was able to get access to the web services definition; they could understand all the different fields and methods available, and they could interact with that particular screen.
This was exposed as a SOAP interface (Simple Object Access Protocol). Screen-based API was widely adopted and very easy to consume but there was one challenge: as customers made changes to the screens (for example, adding new data fields, updating the data type of the field , and so on), the API signatures changed causing issues with existing API integrations.
We heard the feedback loud and clear so as part of our 5.0 version, we launched our contract-based APIs. They enable us to ship one version of APIs and then as customers and partners make changes and modifications, they can expose new versions of those APIs; the ISVs and developers themselves can choose to use which version of the APIs they need based on their particular scenario.
We then also introduced the support for OData (open data protocol) which enabled us to interact and expose our data model that can be easily consumed through many systems. It's a standard specification so Acumatica data could be easily visualized using tools like Excel, Power BI, and so on.
For Acumatica 6, we again heard the feedback and acknowledged the trend happening in the technology space with the adoption of RESTful endpoints. We were excited to announce the support for REST. We began with the base line of entities that were exposed with the REST endpoint, and it was very well received by our partners and developers alike; they were able to provide the flexibility and all the other benefits that come with interacting with a REST-based system.
Most recently, with our Acumatica 2017 R2 release announced in September, we were excited to expand the coverage of the REST endpoints; we went from approximately 30 to 40 base line objects being included in the REST endpoint to about 120. That's pretty much most of the objects that are within Acumatica that can now be accessed through a REST endpoint by our customers, partners, and developers. And developers can easily extend the endpoints to include additional entities and expose them for consumption.
We're also equally excited about making the open API specification available; it's the standard specification formerly known as Swagger and now we announce support for open API. For every one of those endpoints, you can get an open API endpoint, as well; you can use a tool like Swagger UI to discover what a particular API does, what different elements are exposed, and what different operations you can execute on them (such as get, put, and post). You can then use either the web UI or the Swagger tool to try out these API. For example, if you want to execute an example command of pulling a sales order from Acumatica using REST endpoints, you can do that from within the Swagger tool.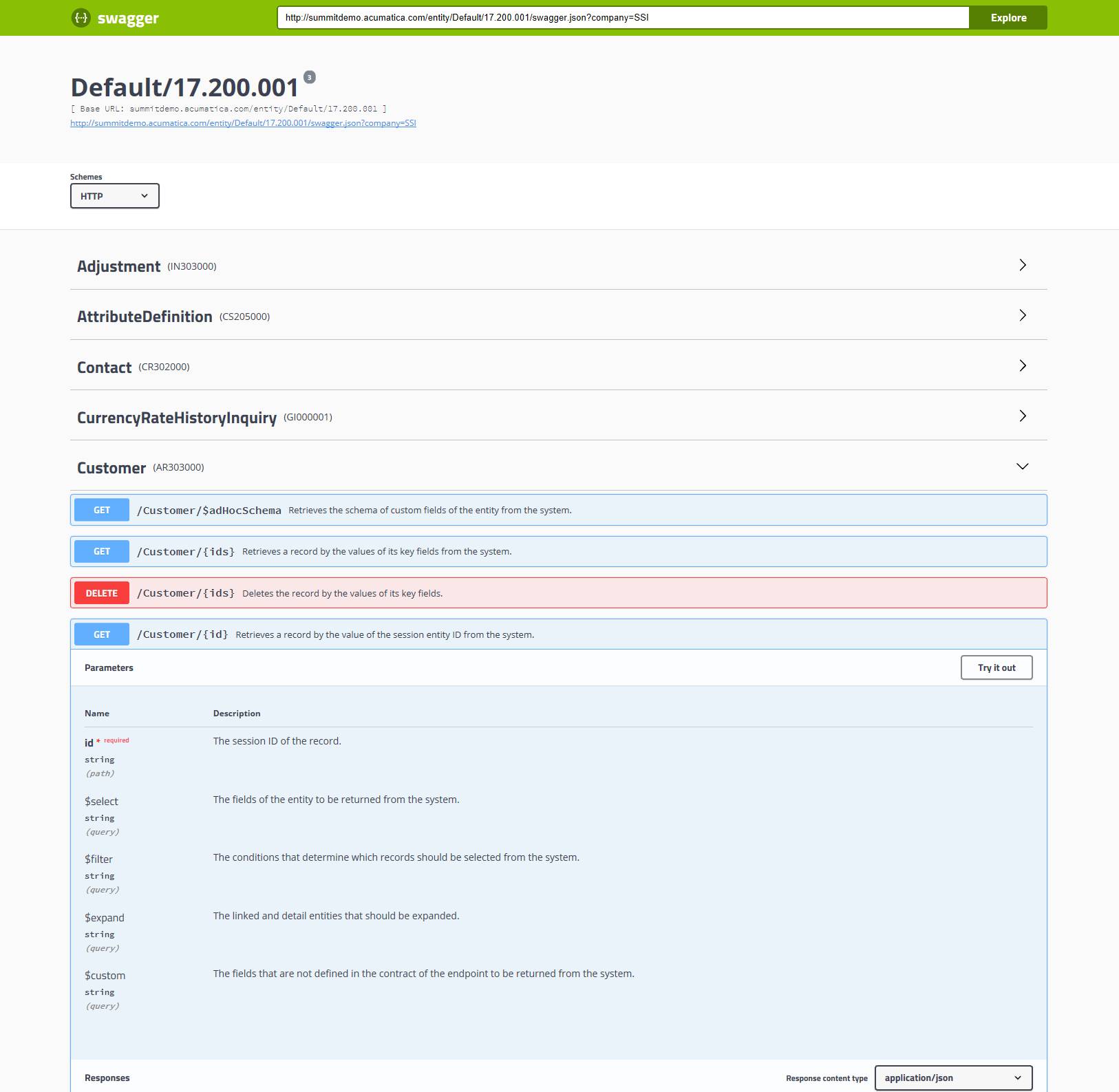 We have made this commitment to our partners, ISVs, OEMs, customers and developers – once you build a solution using a particular API, we'll take every step to not break those integrations and to keep your integrations working.
It's a consortium of companies that got together, driving the open API specification, and Acumatica is excited to be supporting this in our most recent release.
Acumatica API: supporting the multicloud world
Why do we do all of this? Earlier, I wrote about the importance of customization and flexibility. This is the reason we put a lot of emphasis on having this full set of APIs right from the start and then continue to invest in them in every single release.
Traditional ERP is viewed as a system of record. There's plenty of different data sets coming into Acumatica, whether it's financials or inventory or opportunities and leads in CRM, and we believe in having a very connected cloud (our multicloud world). We don't think that data should live and die within the boundaries of ERP.
We live in a world where organizations have very specific needs and many different obligations. They may use Office 365 for communications, Avalara for tax calculations, DocuSign or Adobe Sign for e-signatures, or Magento for ecommerce; there are many systems that our customers are starting to leverage.
We want to eliminate the idea of being separate and compartmentalized; it should all be tightly connected as appropriate for each scenario and for each customer. We believe Acumatica APIs allow us to do that successfully.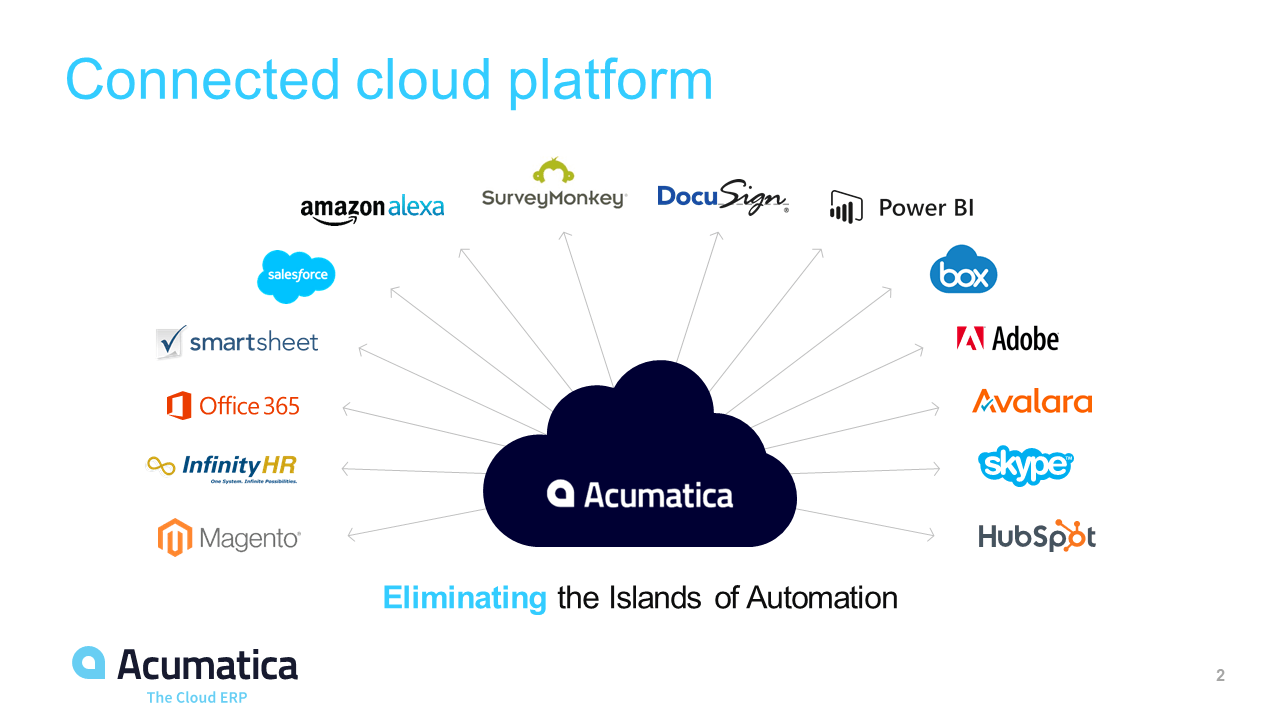 We're able to work easily with our partners, making many integrations possible. That's the power of these APIs. We are able to integrate with other cloud services presenting a unified value, which includes the value of our inclusive licensing model.
Now our customers can use data from ERP along with the data from other systems that are important to them. Imagine a scenario where you're using Salesforce CRM and you have a lead coming in who becomes a customer; now they're in the Acumatica financials and you need to send them an email using Microsoft Office 365 or there's an SOW they need to sign, so you send it via DocuSign or Adobe Sign for an e-signature. Through it all, you're able to visualize the data using Power BI. All of this can happen without you having to put these pieces together.
That's the power of integrations and Acumatica's API in a multicloud world. We're excited to support our present solutions and will continue to grow the footprint of the solutions we'll support in the future.
Finally, from a partnership perspective, we have a growing ecosystem of developers and they're all taking advantage of these APIs, as well. We use open source repository called GitHub where developers can share projects that they're working on with their community. Acumatica has many projects there today along with the ones the developers have built.
At last year's Summit, we introduced the Hackathon and it was a tremendous success with great participation from the community of developers. One of the projects, which they were able to build in a matter of four hours, was an integration between Acumatica and Twilio. The project is now available in GitHub.
Because it was so successful, the Hackathon will be expanded from four hours to 24 hours for Acumatica Summit 2018. We're eager to see what the teams produce at this year's event.
If you have any questions about Acumatica's API and about how we can help you navigate our multicloud world using our cloud xRP platform, I hope you'll contact us. This journey is far from over and we would love to have you join us!
Source: Acumatica Blog